Have you ever tried something so delicious you can barely stand it…and something that you're even more shocked that you actually made.  This is one of those recipes.  When you make this Cinnabon Cinnamon Roll Recipe, you'll feel like you've died and gone to heaven.  These copycat Cinnabon Cinnamon Rolls might even be better than the ones you get at Cinnabon! They are ooey, gooey, and delicous!!!
They're not super hard to make and they're oh-so-tasty!
Cinnabon Cinnamon Roll Recipe Ingredients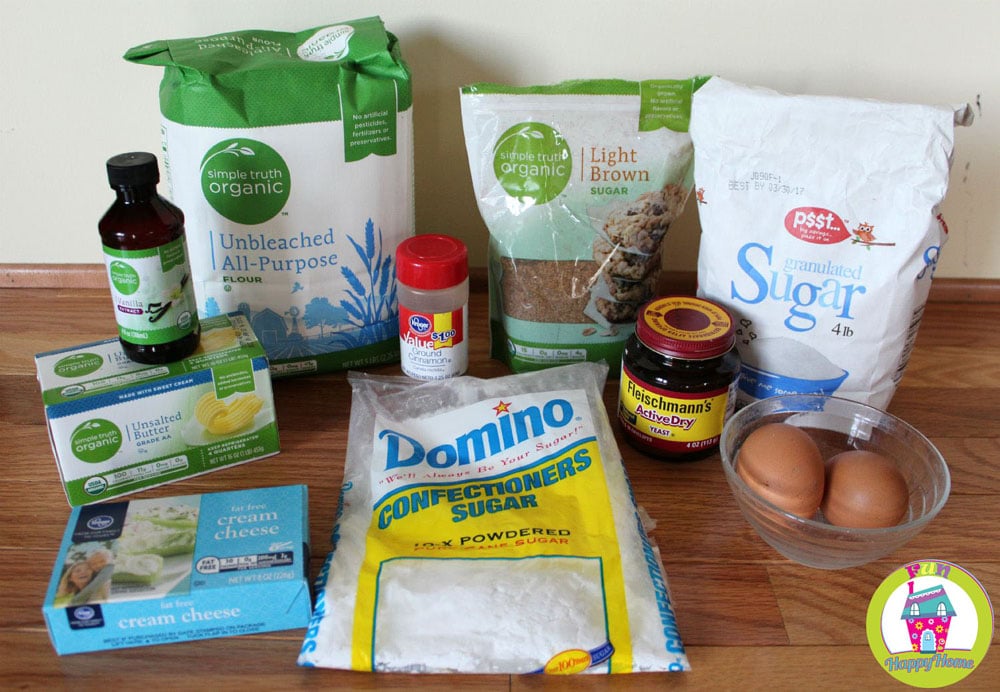 Cinnabon Cinnamon Rolls Dough
Cinnabon Cinnamon Rolls Filling
Cinnabon Cinnamon Rolls Cream Cheese Icing
(If you love icing, it's OK to double this recipe…I won't tell)
6 tbsp butter
1½ cups powdered sugar
¼ cup cream cheese
½ tsp vanilla
⅛ tsp salt
Cinnabon Cinnamon Rolls Recipe Directions:
To start the rolls, dissolve the yeast in the warm milk in a large bowl.

In a separate bowl, add sugar, butter, salt, eggs, and flour, mix well.

 Pour the milk/yeast mixture in the bowl and mix.  If using a stand mixer you will want to use the dough hook. Mix well until well incorporated.

Place dough into an oiled bowl, cover and let rise in a warm place about 1 hour or until the dough has doubled in size.

Roll the dough out on a silicon mat or lightly floured surface, until it is approx 16 inches long by 12 inches wide. It should be approx ¼ inch thick.
Make the Copycat Cinnabon Filling
To make cinnamon filling, combine the butter, brown sugar and cinnamon in a bowl.

Spread the mixture evenly over the surface of the dough. Alternatively you can spread the butter first on the dough and then the brown sugar and cinnamon mixture.

Carefully starting from the long edge, roll the dough down to the bottom edge. The roll should be about 18 inches in length. Cut the roll into 1½ inch slices.

Place the cut rolls into an oiled 13×9 inch pan Cover them with a damp towel. Let them rise again for another 30 minutes until they double in size.

Preheat oven to 350 degrees and bake for 20 minutes or until golden brown (Prepare for your house to smell AMAZING!)

While the rolls are baking, mix all icing ingredients and beat well with an electric mixer until fluffy.
My Baking Must Haves
My favorite baking dish (it comes with a lid which is perfect for keeping things fresh or when you need to transport something
These mats are perfect for keeping food from sticking to a counter top while rolling out dough or for keeping your food from sticking to your baking sheet.
I love my Kitchenaid and use it regularly.  When I make cinnamon rolls, I use the dough hook which is oh-so-handy!
These measuring cups are perfect for measuring what you need for a recipe. I often use the larger ones as a prep bowls.
If you're tired of trying to keep your measuring spoons together or you hate how much of a pain it is to detach and reattach your spoons, you need these measuring spoons.
These cinnamon rolls are perfect for Christmas morning!
Looking for other great recipes for the holidays? Check out these recipes!