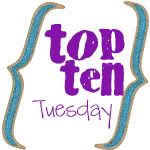 It's Top Ten Tuesday over at OhAmanda (and if you don't read her blog already, you really need to. And just a little FYI, she's a Disney Mom, which I totally want to be when I grow up). Ok…now on to the important things (not that OhAmanda and being a Disney Mom aren't important, but really, this is my blog and today I've decided to post about what I want).
I know it's not even Christmas yet, but I've been thinking about my New Year's Resolutions quite a bit lately and this is the year that I am going to accomplish them. I've tried to make these goals all SMART…Specific, Measurable Attainable, Realistic, and Timely, so here they are (in no particular order)
1. Lose weight (average at least one pound/week for the year)
2. Exercise at least 10,950 minutes
3. Stick to our budget…every single month!
4. Track all of our income and spending.
5. Read through the entire Bible.
6. Take a trip with the kids to Disney World or Disney Land
7. Post at least 5 times/week on my blog
8. Try 2 new recipes per month
9. Read 1 book or listen to 1 audiobook each week.
10. Take a creative writing or public speaking class.
{BONUS} I'd like to get more organized too, but I don't have a good plan for that yet…