If practice makes perfect, I'm pretty sure I'm close to perfect at moving. Ok…not really, but I've moved a lot!  I moved a lot growing up and I've moved a lot since I've been an adult.  And while the packing and lugging furniture isn't fun, I've got some tips for moving that will lower your stress levels and help your new house feel like home more quickly.
This post was sponsored by Savings.com.
Tips for Moving
Change your address ASAP
When you move, it can take time for your mail to catch up with you.  Fill out your change of address forms in advance and turn them in to the post office as soon as you have possession of your new home.  Also, make sure to update your address with your bank, your credit card company, friends and family who send you mail and to any subscription you have.  You don't want your Stitch Fix going to someone else! 🙂
Label your boxes well
You'd think this one would be obvious, but I can't tell you how many times I've come across a box with a vague description on the outside.  This is especially challenging when you're helping a friend move.  While a box that says "Kitchen" is full of kitchen items, are they kitchen items that must be immediately unboxed or does the box contain your summer cookie cutters? Obviously, one needs to be unboxed before the others. (Unless you're one of those maniacs who can unbox an entire house in one day…and if that's you, then why are you reading this?)  Label your boxes with the name of the room they are going to, a brief description of what's in them, and if they are things you need immediately, make sure you write URGENT on the box.
Pack a suitcase with essentials
It's super frustrating to spend a day unpacking and not be able to finish everything you want.  It's like adding insult to injury to be exhausted and wanting to go to bed, but not able to find pajamas, or a toothbrush, or a clean set of sheets.  Throw these items in a suitcase to make sure that when it's time for bed, everyone can sleep comfortably.
Scope out your new stores before moving
If you're moving to a new area, make sure to scope out your new stores before you move.  There's a good chance you'll need to make a bunch of purchases and you'll want to know where you're going to get the best deals.  Moving is expensive enough.  No need to overspend!   If you have a Sam's Club nearby, it's worth it to invest in a membership.  Sam's Club has great deals on items that are useful for people who've recently moved.
Make comfort and safety a priority when you move in
Whenever we move into a new house, one of the first things we do is check to make sure the smoke detectors all work and replace the batteries in the smoke detectors.  Next, we replace the air filters.  Last but not least, I check to make sure there are fire extinguishers in the kitchen and on each floor of the house.  It doesn't take long to take care of these items and it's really inexpensive…especially if you shop at Sam's Club.  3M Filtrete filters are $8 off now through November 25th with Sam's Club Instant Savings. You can save money and breathe easier…literally and figuratively!
Use Paper Plates, Crock-Pot Liners, and Paper Cups
I highly recommend using paper plates the week before you move into your new house and the first week you're in your new house.  You're going to want to rewash dishes that have been wrapped in newsprint and bubble wrap and you're not going to have time for those pesky dinner dishes.  We use our Crock-Pot on move-in day and always use a liner for easier clean up.  We eat on paper plates, drink from paper cups or water bottles and it's nice to throw everything away without adding anything extra to your already full plate! You can be green the rest of the year!
Use a Label Maker
When deciding where you want everything to go in your new home, it helps to label your drawers and cabinets.  Use a label maker to show where kitchen appliances, cups, plates, food items, etc will go in your new home.  You want everyone in your family to know exactly where you want things to go.  Otherwise, you may find plasticware piled on your Crock-Pot and you may find cups in 4 different cabinets.
Give Yourself Grace
Last but not least, give yourself grace.  Rome wasn't built in a day and your home isn't going to be perfect after being there only 24 hours.  Take your time. Figure out where you want everything to go.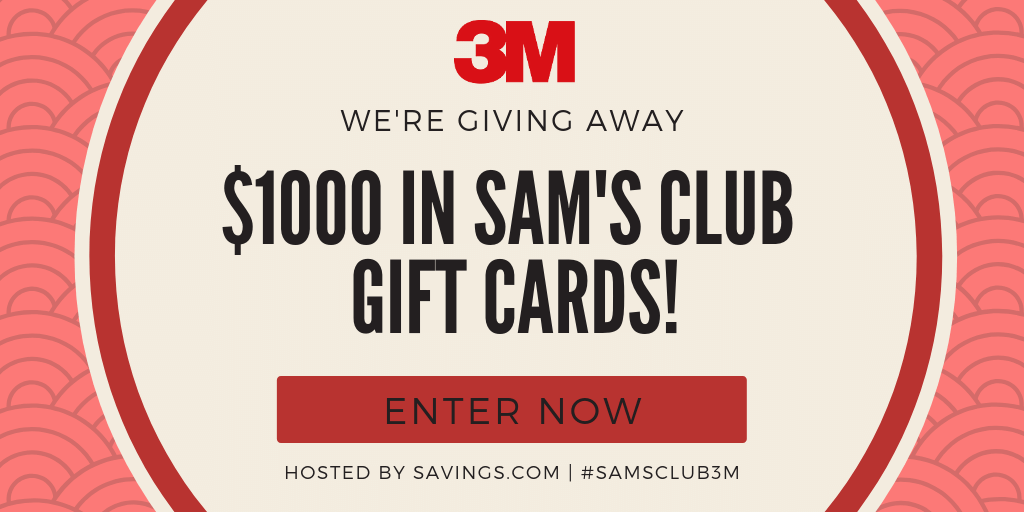 Savings.com is giving away 10 $100 Sam's Club Gift Cards!  Make sure to enter here!!!
What Tips for Moving would you add to this list?