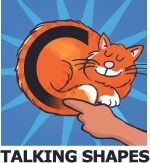 One of the things I've struggled with in homeschooling is how to keep James learning without making things boring!  My goal is to catch him up to grade level academically, so when
Talking Fingers, Inc.
offerered me the chance to review their
Talking Shapes iPad App
, I jumped at the chance.  Let's face it, "playing" on the iPad is way cooler than writing in books according to my son!
Talking fingers is an iPad app that helps to teach children about the alphabet, the sounds it makes, and the way those sounds become words.  It is a fun
interactive learning
tool that helps young readers understand how letters work and how they make words.  This product was developed by a neuropsychologist who used the most recent research on reading and learning to make an app that would help young learners to become skilled readers.  The research noted that struggling readers used the right side of their brains for reading, but that skilled readers use the left side of their brain for reading.  This app using pictures and words to help activate both side of the brain!  I was impressed that this science and research was put to such good use in a way that kids would not only get to play on the iPad, but they'd also be improving their learning and not causing a variety of issues that other online games can cause.  The app is a bargain at only $5.99 in the iTunes store.  I've spent a lot more than this on other tools to help with reading and not all of them have been as beneficial as Talking Shapes.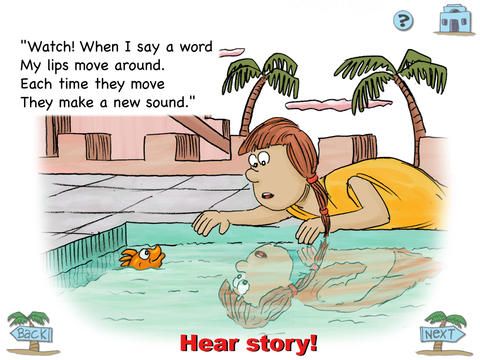 My son can typically work and focus for 30-45 minutes before he needs a break or a change of scenery.  Sometimes changing subjects does the trick, other times he wants "free time". I started using the Talking Shapes iPad app when he got tired of whatever he was working on.  It was a great change of pace for him and he didn't realize that he was actually learning.
While Talking Shapes is designed to give Preschoolers and Kindergarteners a head start on mastering reading, it could probably be used on slightly older kids who struggle with reading.   My son turns 8 in 2 weeks, but he is immature for his age.  While many parts of the app were enjoyable for him, there were times that he complained that it was too babyish for him.  Babyish or not, it has definitely been beneficial to him as far as reading goes.  We were already making progress in the area of reading and phonics, but after using the app, his reading seems more intuitive and less forced.  He doesn't seem to be struggling as much either (which makes this mamas heart super happy)!
I'm a big fan of this app.  While it was at times to young for my son, I can't argue with the results.  He enjoyed playing on the iPad.  I enjoyed watching him learn.  And we're all enjoying the improved reading we've seen in the last 5 weeks.  I'm going to continue to use this with him to see if his reading continues to improve!